We won some goldfish at the Utah Lake Festival, so Noodle and I were discussing fish and eggs and whatnot, and she wanted to know what shark eggs looked like. So we googled it, and I was reminded of
mermaid purses
, but had never ever seen the egg of a horned shark.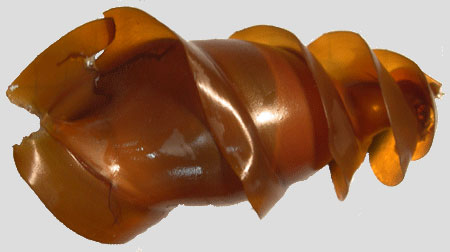 Is that cool or WHAT!?
Here are some mermaid purses for you to enjoy, too.
(one of them has a cutaway so you can see the ittle bitty baby shark....awwwww.)
just kidding, i don't really think that little shark is awww worthy.
Oh, and on a semi-related note (it is aquatic, after all), this month's
National Geographic
magazine has some AMAZING photos of
nudibranchs
. What is a nudibranch, you ask? Well, it's a shell-less relative of the snail that lives on the ocean floor, essentially a soft, sea-going slug. And I can't decide whether they look more like candy confections or blown glass.
Seriously, you have to check out
these photos
.